A horse walker is an essential piece of equipment for any horse facility where anyone can easily exercise horses in a relatively calm and controlled way.  Constant use by horses means the flooring will slowly wear and deteriorate and this sometimes becomes hazardous to the horses.  As there is a high risk of the horses slipping or tripping on a smooth surface like concrete, a choice of rubber becomes obvious.

---
Making a choice of rubber flooring:
Choosing the right flooring in the beginning goes a long way in relation to your return on investment and safety for the horses using the horse walker.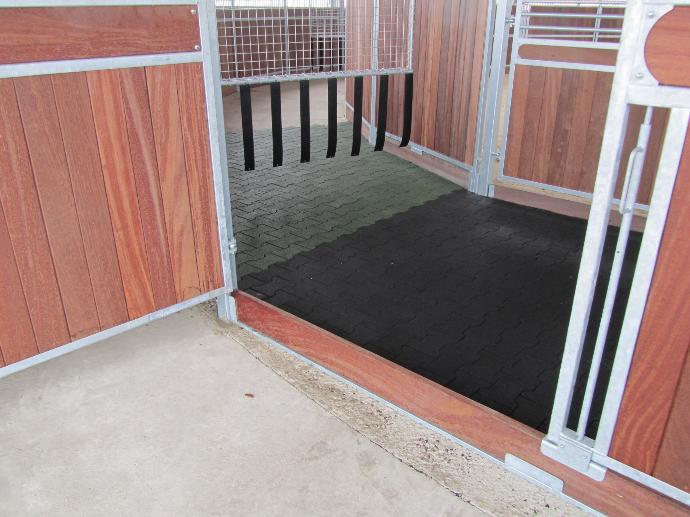 Benefits of rubber in horse walkers:
Rubber offers superior grip.  In comparison to concrete rubber is extremely slip-resistant even when wet which makes the horse walker a safer environment to exercise your horses.  Another benefit to the horses is that a secure rubber surface boosts the horse's confidence when walking due to the superior grip and comfort.


Rubber absorbs the shock and impact of the hooves and reduces stress on tendons and joints.  It's important for any horse owner to limit potential injury to their horses so they are able to work and train harder for better performances.

Costs can be saved by extending the time between reshoeing horses as the rubber absorbs impact and extends the lifespan of shoes.

Cleaning is quicker and easier which not only keeps the horse walker clean but also saves you time and money doing routine tasks.

What rubber should I choose for my horse walker?
Rubber granulate pavers: specifically designed for high traffic areas such as horse walkers.  Also, attractive colour options available for these pavers.

Rubber interlocking tiles: purpose-built for horse walkers, these tiles are extremely durable and comfortable to walk on.

Rubber sheets with interlocking sides: This type of matting is typically a 6" x 4" rubber sheet cut to fit the shape of the walker.
What other options are there?
Sand: relatively cheap however sand is an alternative option to rubber depending on the installed base of the horse walker.  One of the main drawbacks is that the horses will create compacted rut around the walker.  A responsible operator should therefore level the surfaces regularly which is extra work and requires specialist tools.